Barbara Vella
Attorney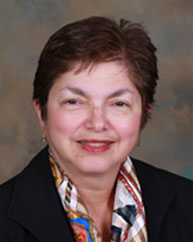 BARBARA GIORGI VELLA is an associate in the firm of Vella & Lund, P.C. She has been associated with the firm since 1992. She has concentrated her practice in the following areas: family law, probate, real estate, contracts, adoptions, and other civil matters. Attorney Vella has handled many dissolution and paternity cases, represents children as a Guardian ad Litem or Child Representative and conducts mediator for family court.
In addition to being an attorney, Attorney Vella is a trained mediator and trained Guardian ad Litem. Originally she was trained as a teacher and counselor. She believes that she brings all these skills to her role as an advocate. She received her B.A. degree from the Edgewood College in Madison, Wisconsin, her M. A. Degree from the Northern Illinois University in Counseling and her J.D. from Northern Illinois University College of Law cum laude.
She is a member of the Winnebago County Bar Association and Illinois Bar Association. She is a member of the Mediation Committee and volunteers as an Attorney for the Kid's Place, a drop-in center for children at the courthouse. She has served on numerous Boards and is presently a Board Member of LaVoz Latina.